Print & Artwork
Whether it's a small Chip & Pin roll printed in one colour with simple text or a large ATM roll printed in complex full colour with printing on both sides of the roll Meriden have the capability to supply it.
Security We can incorporate various Security Features into our printing including our own Patented product. This was developed many years ago for a leading Multiple Retailer and has since provided a cost effective solution for many more retailers to combat fraud.
Capability Our four printing presses provide us with in house capabilities of one to six colour printing. To compliment this the company has on site print design and artwork generation facilities. We are capable of receiving client generated artwork by ISDN, email or on disk.
Flexibility We have the ability to produce virtually any quantity of printed rolls from short runs of 200 rolls to vast retail promotional campaigns, and as the design and printing work is produced 'in-house' you can be sure of a quality service through every stage of the process.
Reducing Costs Since the early 1990's Meriden Paper has been heavily involved in the printing, manufacture and distribution of Advertising Rolls, promoting the subsidised supply of till rolls as a cost effective solution to significantly reduce till roll budgets. We would be happy to discuss this with you and our advertising marketing partners.
Artwork formats - Popular acceptable formats of Artwork will be from the following applications:
| | | | |
| --- | --- | --- | --- |
| Adobe Illustrator | Corel Draw | Photoshop | Quark |
Our Stock List: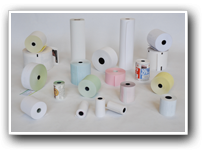 View our Stock List >>>
Our Machinery
Find out about our machinery capability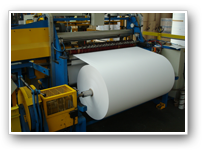 Find out how >>>