Our Machinery
Meriden Paper operate:
Twelve Slitter & Rewinders: encompassing fully automatic and semi-automatic single and multi-ply, plain and printed roll production. We have the capability to produce significant volumes of commodity items at short notice using our Auto and Semi Auto machines of which we have 6 in total. We maintain the capability of slitting specialised rolls in short to medium size runs with our standard single and multiply machines, these can slit to as narrow as 9.5 mm and wind up to 305 mm in diameter giving us significant scope for a diverse range of products, such as counting insertion tabs for paper reams, or even counter reels off wrapping paper.
Five Flexographic printing machines (including 2 Central Impression 6 colour Presses for Processed/Magazine Type requirements): providing one to six colour printing capabilities including four colour process and security printing. We have a single colour machine for simple jobs and short run work, a 2 colour machine and a 4 colour machine for high volume commodity items and 2 six colour CI press for specialist work. We have a print repeat range from 14" (356 mm) to 24" (610 mm) most designs can be easily accommodated, the most commonly used are 380 or 410mm. Our maximum volume printing width is 1350mm. Most of what we print is for use internally but we do sell pre-printed reels usually for packaging or wrapping paper markets which we intend to develop further into.
Labels: We are currently able to produce labels on two multicolour presses, which gives us the flexibility to produce bespoke customer product or security printed tape according to our customers' requirements alongside the standard commodity lines. We aim to develop, invest and add to this processing machinery in the near future to enhance our capability and capacity.
Our Stock List: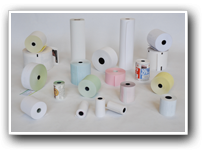 View our Stock List >>>
Roll Print & Art Work
Fully customise your till rolls with a promotion or company logo.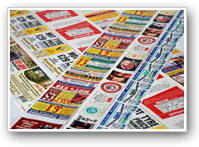 Find out how >>>